Model ST162-12Q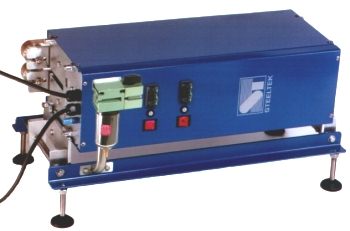 General Use:
The 162-12Q Series Header Selers are used for higher speed applications. The third belt option allows for sealing in the gusset, or fold over top film for die cut bags. It also keeps the center layers from sealing together. They are also called Roller Sealers.
Product Features
-Aluminum and stainless steel construction.
-Dual variable temperature controls.
-Independently controlled solenoid valve to open and close sealing jaws.
-Adjustable floor pads to allow a web path of any angle.
-Stainless Steel Covers.
-Two 6" Fixed and Four 3" spring loaded, adjustable pressure, seal bars.
-Seal widths available from 1/8" to 7/16".
-Cradle floor stand.
-Quick Set Cooling.
Product Options Available:
-Third belt attachment for sealing in the gusset, fold over top film, dye cut bags.
-Special frame for operation in a verticle position.
-Model ST162-12W with water ported cooling bars.