Model ST170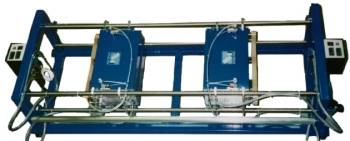 General Use:
The 170 Header Series, also called Roller Sealers, are designed for applications where seal lines have to be produced on the film, deeper than that of our standard header sealers. Typical applications would be compartment bags, coupon bags, and courier packs, where sheeting is used, center folded, before entering the header sealer. This series of header sealers can also be used to, (a) seal two up header seals on a bag machine with both folds in the center of the web. (b) produce seals on the outside edges of fold over top film.
Product Features
-Aluminum and stainless steel and steel construction.
-Split and complete upper and lower sealing heads.
-Sealing heads on one frame.
-Temperature controller for each sealing section.
-Independently controlled solenoid valve to open and close upper and lower head.
-Adjustable floor pads.
-Pneumatic Filter- Regulator.
-Stainless Steel Head covers.
-Seal widths available from 1/8" to 7/16".
-All controls mounted on frame ends for convenient access.
Product Options Available:
-Various sizes of frame configurations available.
-Model ST-170-DSH as above features with a second complete upper and lower sealing head.