Model ST200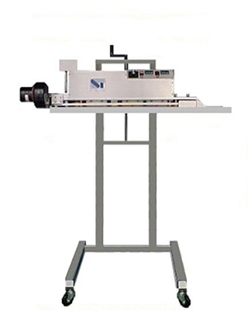 Product Features
-Seals virtually all heat sealable materials.
-Stainless Steel and Anodonized Alluminum Construction.
-Sealed bearings.
-Trim above seal line (maximum trim 3.25").
-Trim Blower.
-Illuminated on/off switch.
-Food Grade Belts.
-Product Support Belts (up to 2kg max).
-Stainless Steel Stand.
-Locking, Swivel Castors.
-Sealing Head Height Adjuster.
Product Options Available:
-Dual Heat for heavy gauge bags. (Model Shown with Dual heat)
-Quick Set Cooling for high speed applications.
-Articulated Feet.
-Pinch Roller system for gusset bags.
-Date Coding.
-Emergency Stop.
-Trim Scrap Chute.
-Product Counter.
-Digital Speed Indicator.
-Process Validation.
-Left to Right Feed.
-220 - 240 Volt A.C., Single Phase.
Product Specifications:
-Speed: Variable to 590 inches per minute.
-Digital Temperature Control: Variable and Tamperproof.
-Sealing Bands: Low Cost, Tefton/Fiberglass. (10 provided at no charge)
-Seal Width: Standard 3/16" (Available from 1/8" to 7/16")
-Electrical: 110-120Volt, 60Hz, Single phase.