Model STDT160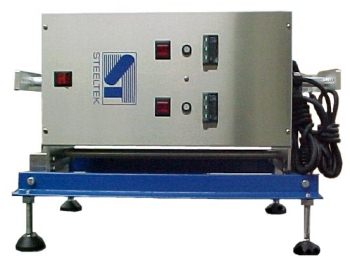 General Use:
The STDT-160 is specifically used for fold over top material. Also called a Roller Sealer.
Product Features
-Alluminum and Stainless Steel construction.
-Two Variable Temperature Controllers, each controlling a heating zone.
-Three Cooling Fans, center fan is independently switched.
-Upper and Lower Heating Zones.
-Each Zone has a fixed 6" and two 3" spring loaded, and adjustable, pressure seal bars.
-6" Throat Depth.
-Four Sealing Bands.
-Independently controlled solenoid valve to open and close sealing jaws.
-Adjustable floor pads to allow a web path of any angle.
-Stainless Steel Covers.
-Seal widths available from 1/8" to 7/16".
-Cradle floor stand.
Product Options Available:
-Special frame for operation in a verticle position.